Our porcelain veneers in Allen, Texas, are very thin pieces of durable, tooth-shaped porcelain that are custom-made (for shape and color) by a professional dental laboratory. They are bonded onto the front teeth to create a beautiful smile.
Veneers can completely reshape your teeth and smile. They can often be alternatives to crowns and the ideal solution in treating many dental conditions.
Porcelain veneers are very durable and will last many years, giving you a beautiful, long-lasting smile. Proper brushing, flossing, and regular dental visits will aid in the life of your new veneers.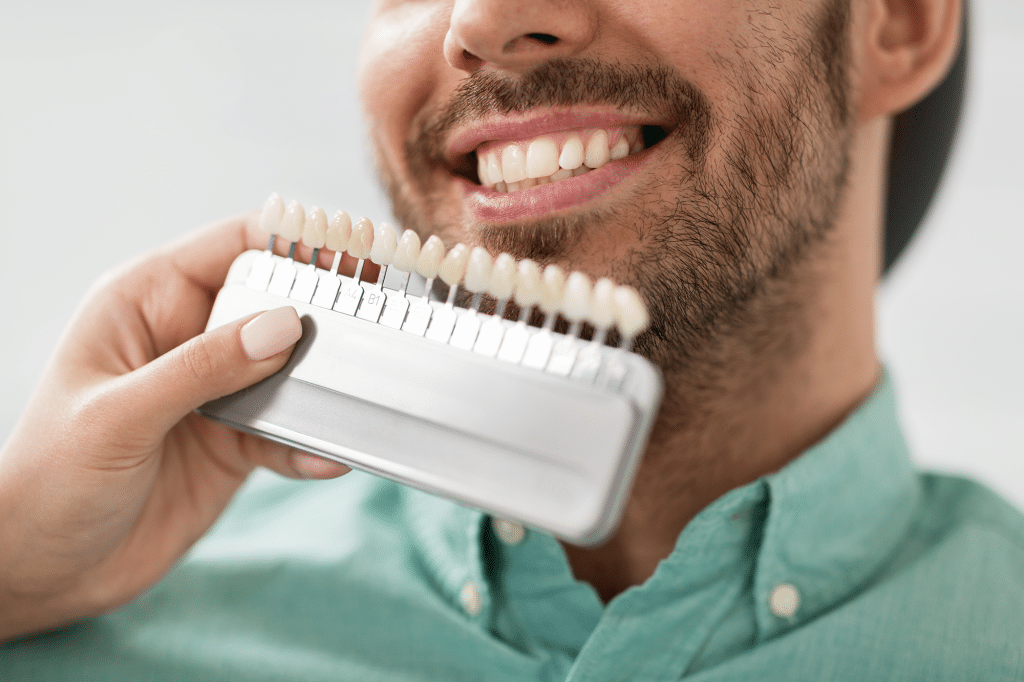 The Benefits of Dental Veneers
A beautiful smile can improve more than just our appearance. It can also boost our self-confidence and make us feel happier. However, not everyone is born with a perfect set of teeth. If that's the case, don't worry, dental veneers may be a solution for you.
Reasons for Porcelain Veneers:
Cosmetically, to create a uniform, white, beautiful smile.

Crooked teeth.

Misshapen teeth.

Severely discolored or stained teeth.

Teeth that are too small or large.

Unwanted or uneven spaces.

Worn or chipped teeth.
Improve Your Smile Instantly
Dental veneers are thin shells, custom-made for each patient. They fit perfectly over your teeth to create a natural-looking, beautiful smile. Veneers can fix various issues, such as gaps between teeth, uneven teeth, discoloration that you cannot correct with teeth whitening, and chipped or broken teeth. Getting veneers is simple, painless, and can be completed in just a few visits to your dentist.
Long-Lasting Results
When compared to other cosmetic dental treatments, veneers have a longer lifespan. They can last for up to 15 years with proper care. To maintain your veneers, maintain an excellent oral hygiene routine and visit your dentist regularly for checkups. Veneers are made from high-quality materials sturdy enough to withstand daily use.
Stain-Resistant
Dental veneers resist staining caused by coffee, tea, tobacco, and red wine. This resistance means your veneers will maintain their white and beautiful appearance even if you drink these beverages. Be sure to brush and floss your veneers daily to keep them in good condition and stain-free.
Customizable
Each veneer is custom-made to fit your teeth and jaw structure. They are available in different shapes and sizes, so your dentist can create a look that suits your face and personal preferences. Your dentist will work with you to create veneers that look entirely natural and complement your look.
Boost Your Confidence
Living with cosmetic dental issues can be a dent in your self-esteem. If you've been hiding your smile, you know how it feels to be self-conscious about your appearance. Getting dental veneers can help improve your appearance and confidence instantly. You'll be able to smile freely and confidently without worrying about your cosmetic dental issues, which can also positively impact other areas of your life.
What Does Getting Porcelain Veneers Involve?
Getting veneers requires two visits to complete the process, with little or no anesthesia required. The teeth are prepared by lightly buffing and shaping the surface to allow for the thickness of the veneer. We will take a mold or impression of the teeth, and you and the dentist will then choose a shade (color).
The teeth will be cleansed with special liquids on the second visit to achieve a durable bond. We place the bonding cement between the tooth and veneer and use a special light beam to harden and set the bond.
You will receive care instructions for veneers. 
Porcelain Veneers in Allen, Texas
In conclusion, dental veneers are a great way to improve the look of your teeth and achieve a beautiful, natural-looking smile. They are long-lasting, stain-resistant, and customized to suit your individual needs. If you're ready to transform your smile with veneers, book a consultation with Dr. Nicholas Cox or Dr. David Toney at Cox Family Dentistry. 
Getting a veneer is painless and simple, and with just a few visits, you can have the smile of your dreams. Remember to maintain good oral hygiene to keep your veneers looking good and to ensure they last for an extended period.